Have you how to go to Vietnam ever asked before? Or where should I go when I come to Vietnam? My answer is definitely yes and my choice is Mau Son Mountain……
As you may know, Lang Son is not only famous for stunning traditional dishes such as Khau Nhuc, Mac Mat, roasted duck, roasted pork but also for spectacular landscape like Tam Thanh, Nhi Thanh caves, Dong Dang, Ky Lua Markets and of course, one must-see tourist attraction that appeals to all domestic as well as foreign visitors is certainly Mau Son Mountain.
Located in Loc Binh District, Lang Son Province, Northern Vietnam, 194km away from Ha Noi capital Mau Son is naturally known as a real paradise in LS in particular and one of the best destinations in Vietnam.
Mau Son is a mountainous region of the province with diverse terrain, with an average elevation of 800 – 1,000 m above sea level, and small mountains with the highest peak of Phia Po called Peak Cong or Cong Son Peak,… The total area is about 550 km². The population is mainly ethnic groups as Tay, Nung, Dao….with distinct traditions.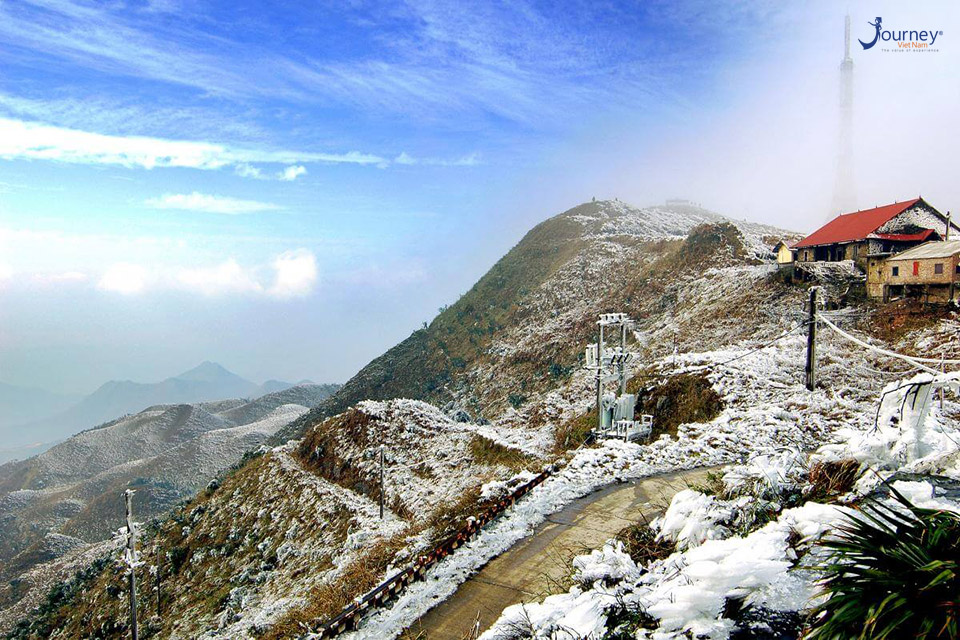 There are 2 distinct seasons: summer and winter
There are 2 distinct seasons: summer and winter. The summer lasts from April to October with average 16 – 23 degree Celsius. In the winter, the temperature usually goes down to 1 or 2 degree Celsius and sometimes when the cold winds start blowing and acting; it can go down to minus 3 or 5 degree Celsius. Therefore, the weather is freezing cold. This is the time when you can contemplate white snow or build snowman. Hence, this is also a feature attracting tourists to Mau Son in winter in recent years. Occasionally, it is rainy in both winter and summer and the weather is so cool, you can definitely enjoy the fresh air here.
Regarding the people in this landmark, they are welcoming and thoughtful ethnic residents, the majority of them belong to Dao and Tay groups and the livelihoods of local people depend on livestock production and cultivation.
The identity of culture, customs, habits are kept intact, the way of eating, folds, costumes, worship customs, and equally important – yearly festivals which attract a big number of tourists come and enjoy on their holidays.
Apart from picturesque view, people will totally be attracted by mouth-watering and soulful cuisine mountain that we cannot miss when coming to Mau Son Mountain. Some of dishes which are worth mentioning are roasted duck and pork, baked chicken, lemongrass especially mangos teen, chili forest, snow tea – a kind of tea without beds but old trees on hundreds of high peaks years hidden in the fog and last but not least the tastiest specialty in this area is Mau Son white wine, honey, Mau Son peaches.
Taking part in a journey, a group of my friend and I had a chance to visit this mountainous area last winter. We have had a precious and memorable trip with a lot of unforgettable memories. After nearly 3 hours sitting on the coach from Ha noi capital, we finally reached the destination. We were amazed at the poetic beauty of this mountainous region, we followed small path with 2 lines of grass and tree of 2 sides to go the mountain. From the top of the mountain you could see the endless green fields, the small and simple but warm houses with smoke released from plain kitchens of families under foot's mountain. It looks like you can see the whole world from the top. When visiting the citizens' house, we had funny and friendly talk with them, we were invited to join small parties holding by the very ethnic people, tasting scrumptious dishes….
Mau Son is considered as an area with potential for ecotourism development with the advantage of climatic conditions, natural landscapes, values of pure ethnic cultural identity of ethnic groups living here. If you are still considering tours in Vietnam, do not hesitate to choose Mau Son, a dreamy paradise right in Lang Son, Vietnam.
By hanoijourney